Kerry College hosts WorldSkills Ireland National Skills Final for the MAMF Craft Apprenticeship
World Skills Ireland is a partnership between enterprise, industry, education, training and government that raises the profile and recognition of skills and apprenticeships and prepares the talent of today for the careers of the future.
The WorldSkills Ireland Preliminary & National Final 2021, for the MAMF/Industrial Mechanics Craft Apprenticeships, took place in Kerry College, Monavalley Campus on the 1st, 23rd, and 24th of March 2022 (Delayed from the original date due to the Covid-19 pandemic). The competitors from all over Ireland were nominated by Employers, ETBs, and Technical Universities, based on their skill development and application to craft studies. Thirteen Apprentices competed in the preliminary final and four apprentices from this group qualified to compete at the National Final later that month.
The four National finalists who competed were:
Reece Seery – LCETB & Tullamore, Co. Offaly.
Tom Crowley – MTU Cork & Tralee, Co. Kerry
Padraig Twomey – TUD & Kilmichael, Co. Cork
Padhraic McMahon- Liebherr CC, & Killorglin, Co. Kerry
The overall winner of the National competition was Tom Crowley (MTU Cork & Tralee, Co Kerry). Tom is a fourth-year apprentice in Dairymaster, Causeway, Co. Kerry, and may have the opportunity to represent Ireland at WorldSkills Shanghai, China in October 2022.
Tom is pictured below being presented his trophy by Tom Cronin (Chief Expert for WorldSkills Ireland MAMF/Industrial Mechanics), Michael Hourihan (WorldSkills Ireland Official Delegate), Con O'Sullivan (Manager, Kerry College, Monavalley Campus), and Ioseph Nestor (Assistant Manager Kerry College Monavalley Campus).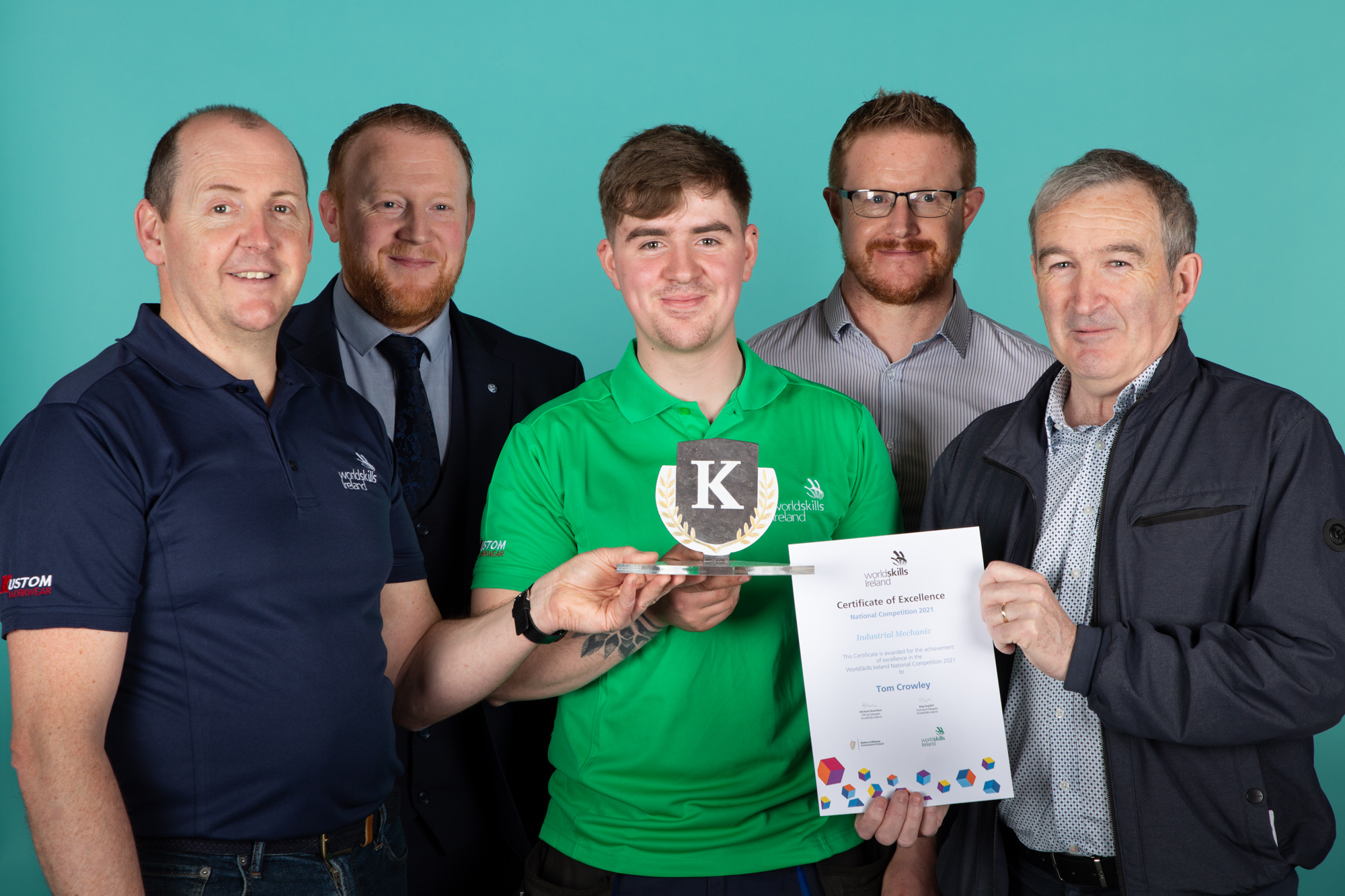 Tom Cronin, Kerry College MAMF Instructor & WorldSkills Ireland Chief Expert for Industrial Mechanics said,
"It was a pleasure to organise this event at Kerry College and we are delighted with the skill level shown by all of the MAMF apprentices during this competition. I would like to take this opportunity to thank the WorldSkills Ireland Examiners, Derek Rothwell (WWETB), Aidan O Connell (MTU Cork) and Sean Dorris (Kerry College), and the Management and Staff of Kerry College, Monavalley Campus for their support and dedication during this competition process."
Credit also to Tom Little (Stone Cutting Instructor, Kerry College) and the Stone Cutting apprentices for creating the trophies. Credit also to Jim Twomey (Digital Media and Photography Instructor, Kerry College) and the Digital Media Trainees for photographing the event.
We now look forward to the WorldSkills Ireland 2022 National Competition live at the RDS Simmonds Court from the 13th to the 15th September.